February 2020 - Adéjọkẹ́ Rafiat ADÉTÒRÒ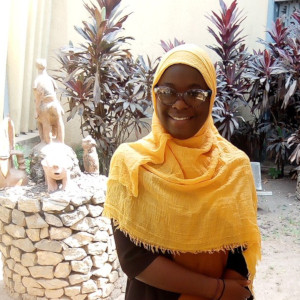 Interview of the Fellow of the month
February 2020 : Adéjọkẹ́ Rafiat ADÉTÒRÒ, PhD candidate at the Department of History, University of Ibadan
"Beyond helping hone your research skills, learning and interacting with senior academics from diverse fields and regions. This fellowship has afforded me a local, transnational and international research network with peers and early-career scholars from various disciplines."
Being part of the IFRA fellowship…
Describe yourself briefly
I am Adéjọkẹ́ Rafiat ADÉTÒRÒ, a PhD candidate at the Department of History, University of Ibadan studying a social history of religions at the University of Ibadan. I am also a junior research fellow with Leibniz-Zentrum Moderner Orient (ZMO), Berlin as part of the 'Religion, Morality and Boko in West Africa: Students Training for a Good Life (REMOBOKO)' project.
Since when are you a fellow of IFRA-Nigeria?
I officially joined the IFRA-Nigeria Fellowship in February 2017. Although I have been participating in some of their programmes before then.
How have you benefited from IFRA-Nigeria?
Being a junior research fellow of IFRA-Nigeria in the past three years is definitely one of the highpoints and vital part of my career development and professional life. Having participated in not less than 10 methodological and writing seminars and workshops as well as two masterclasses. In addition to this is the opportunity to work as research assistants with visiting scholars or research teams. Participating in the series of workshops and seminars have undoubtedly helped shape my budding scholarship and have enhanced my knowledge of intellectual questions, methods, and writing strategies.
A case in point is my participation in the 2017 Research Masterclass on "Sacred Urbanism: Entrepreneurial Religion, Infrastructure and the New Urbanism in Nigeria." Organised by IFRA-Nigeria in collaboration with Sciences Po (Paris) and Columbia University (New York) at the Institute of African Studies, University of Ibadan.
Indeed, I will qualify being a part of this masterclass as one of the immediate factors that renewed my aspiration for the historical study of religions and society. Learning from our faculty which comprised of seasoned scholars from diverse disciplines and also fellow participants and teammates to produce a co-authored paper titled 'One Love Family: Intersection with State and Non - State Agents in Spatial Appropriation' that examined the ambivalent relationship between the followers of Sat Guru Maharaj Ji; the adherents of his religious group and state agents while appraising their role as social and religious actors.
The level of multidisciplinary interactions I had with both the faculty and fellow participants remain one other thing I am thankful for, being a part of that cohort. It has continued serving as a guide in my subsequent research and most especially on my PhD journey.
Have you contributed to IFRA in any way?
Besides attending workshops, seminars and masterclass, I have had the privilege to anchor or moderate some guest lectures and discussions organised by this institute. My favourite so far is moderating the 2016 Ibadan edition of the IFRA- Nigeria Lecture series titled 'Women on the Move in Nigeria and Beyond: Mobilisations of Women, Mobilisations of Ideas' with Ms Sara Panata, Dr Seunfunmi Olutayo and Dr Jules Falquet. Indeed, the contribution is symbiotic as it also helps improve one's communication skills. I often assist some of the institute's visiting scholars in their field engagement especially in navigating some neighbourhood in Ibadan. Recently, I assisted and worked alongside a research team whose fieldwork took place in Òjé neighbourhood, Ìbàdàn as part of the 2019 "Researching public spaces in African cities" masterclass. I have also co-authored two working papers as part of the product of my participation in the June 2017 and July 2018 research masterclasses in Ibadan and Kano respectively.
A bit more about yourself…
What are your main research interests?
At present, I am researching and exploring religious dynamics in higher education institutions in transnational perspectives with a specific interest in the trajectories of religiosity on university campuses. Simultaneously, I am interested in social history especially in relation to religious encounters, intellectual history, and gender and sexuality studies in transnational perspectives though with a regional concentration on Africa.
What research project are you currently working on?
I am currently engaged in two research projects which IFRA-Nigeria is also involved in. The first of this is an ongoing investigation that started in 2018 with Dr Elodie Apard focusing on 'Aesthetics and Typologies of Muslim Women's Veiling in Ibadan' which is aimed at grasping how religion and/or social activities influence the choice and use of veil by women in Ibadan metropolis. The study on 'Religiosity on University Campuses' with ZMO is another collaborative project with IFRA-Nigeria. This research seeks to interrogate reframing of the geographies of the university academic and social environment and the consequent introduction of new religious and cultural forms.
Anything else you'd like to share with us?
As someone with a background in the discipline of history, with its own peculiar research methodology. Working with IFRA-Nigeria fellows or visiting researchers and being a part of the Remoboko project meant that I practically have been engaging and learning new multidisciplinary tools for data collection and analysis for individual inquiry and collaborative work. While my background in history involves collection of oral histories through
interviews, archival and library research which also assists me in navigating different study field. One investigating tool which I have picked up from recent collaborative work is the use of ethnographic method especially 'participant observation.'
Although the period of study for my PhD thesis is 1948 - 2010, I have been pre-testing this research tool for my PhD research. I must say that attending and observing programmes of students religious groups such as Jihad week and Christian prayer meetings at the University of Ibadan in the past one year has offered me illuminating ideas on where to look to and sometimes who to speak to. I also once designed and conducted an online survey to get a peek into the religious affiliation of University of Ibadan students.
Beyond helping hone your research skills, learning and interacting with senior academics from diverse fields and regions. This fellowship has afforded me a local, transnational and international research network with peers and early-career scholars from various disciplines. We have shared research ideas, methods and mostly keep in touch as conversation partners on this journey.
To follow Adéjọkẹ́ Rafiat ADÉTÒRÒ