IFRA training workshop: "Researching the history of medicine and health in Nigeria" by Dr. John Manton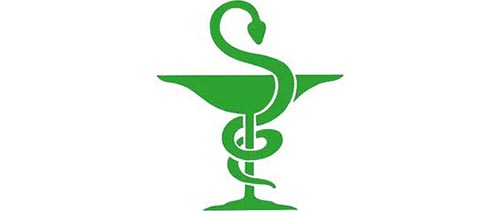 On the 11th of October 2017, IFRA Nigeria was pleased to organise its next research training seminar at the IFRA library, Institute of African Studies, University of Ibadan. It was supervised by Dr. John Manton, Assistant Professor in History at the London School of Hygiene and Tropical Medicine. It was part of a series of programmes in Ibadan together with Dr. Manton and Prof. Martin Gorsky, Professor in the History of Public Health at LSHTM. Prof. Gorsky will give a lecture on the 17th of November at the Department of History, University of Ibadan.
First, Dr. Manton reflected on the sources that may help researchers interested in documenting the backdrop of colonial and postcolonial health and medicine, medical institutions and practitioners of biomedicine in Nigeria and beyond. As both the theory and practice of biomedicine have varied locally and diachronically in Nigeria, local and foreign scholars need to act creatively to understand these specificities. Therefore, Dr. Manton started by describing the existing types of materials that can substantiate accounts of biomedicine in Nigeria; this includes state and official records, private and institutional archival holdings and interviews with key informants. IFRA director Dr. Elodie Apard picked up with several points, referring notably to the use of archives in Nigeria. Dr. Manton also examined medical history and medical anthropology as distinct fields. Medical history pays attention to the evolution of healing practices, governance, institutions and tries to grasp continuities and changes. Conversely, medical anthropology refers to the study of people, health and healing systems within notable ecological, social and economic contexts; medical anthropologists intend to interpret contemporary discourses and practices around health and diseases.
Dr. Manton then focused on various ethical issues that arise when doing research on medical history. As extremely sensitive data, medical records must be used cautiously by researchers. Informed consent and anonymity rules should be followed scrupulously. Participants reacted to these elements and raised concerns regarding their own experiences as researchers in a variety of fields.
Finally, Dr. Manton evoked field research he conducted in Uzuakoli in Nigeria, and in Cameroon for a project which traced biographical trajectories of medical disciples of Eugéne Jamot in the town. Jamot was a French medical doctor of the colonial era who worked extensively on sleeping sickness. This biographical project led to the publication of a book Traces of the Future. An archaeology of Medical Science in Africa (2017, University of Chicago Press), containing outstanding photographs of their fieldwork experiences. Dr. Manton donated a copy of this book to the IFRA library.
The disciplinary backgrounds of IFRA fellows who participated in this seminar were very diverse. They included comparative literature, peace and conflict studies, history or diaspora and transnational studies. This variety fuelled significantly the general reflection as many students raised points which concerned the broader social sciences.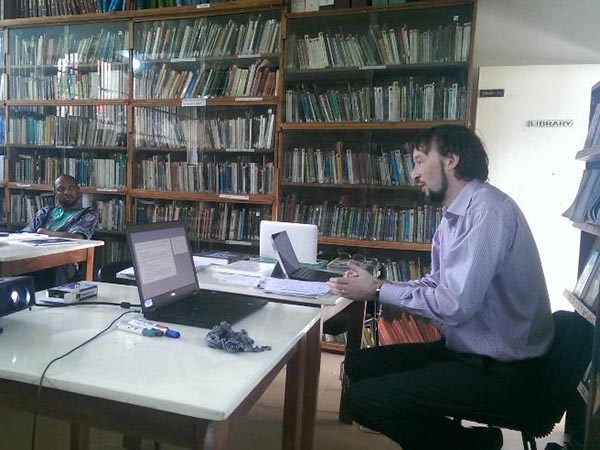 John Manton listening to the research account of a workshop participant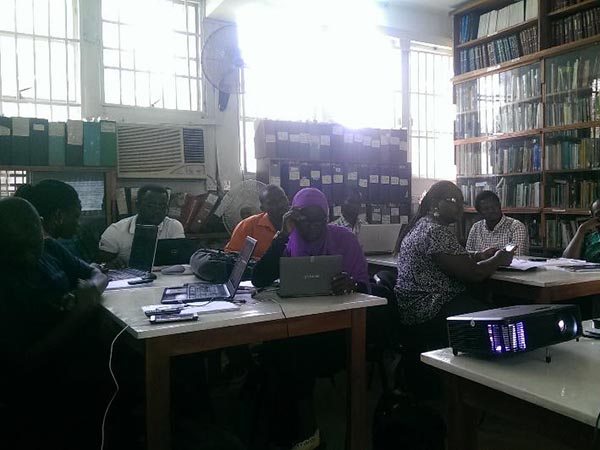 IFRA fellows paying attention to Dr.Manton's comments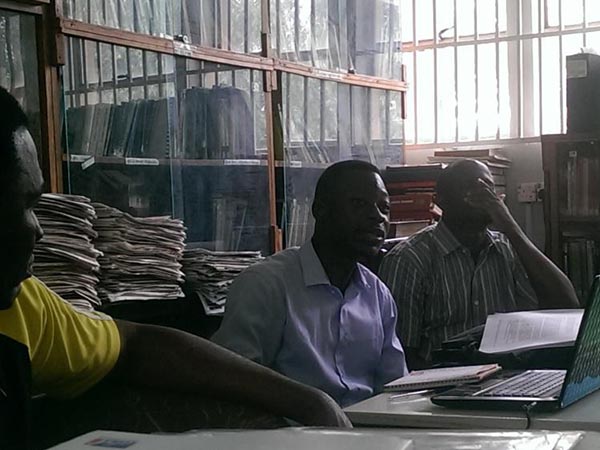 An IFRA fellow reflecting on his own research experience