IFRA training workshop: "Media as fieldwork. How to do ethnography with press articles" Dr Julien Bonhomme
On Tuesday 26th of September (2017) at 2pm occurred an exciting IFRA's research seminar organised jointly with the Alliance Francaise at the Alliance Francaise Ibadan in Iyaganku. The seminar was run by Dr. Julien Bonhomme, anthropologist and lecturer at the Ecole Normale Supérieure in Paris. Dr. Bonhomme had presented his book The Sex Thieves. Anthropology of a Rumor (2016, University of Chicago Press) the week before at the Alliance. The seminar was entitled "Media as fieldwork. How to do ethnography with press articles". The seminar was opened to IFRA fellows, which comprises a network of more than 70 early researchers across Nigeria and beyond.
After the introduction by Dr. Emilie Guitard, IFRA's deputy director, each fellow participant introduced himself/herself. The process emphasised the academic diversity of our fellows: participants included master and Phd students in fields as multifarious as comparative literature, cultural and media studies, psychology or diaspora and transnational studies.
Dr. Bonhomme divided the session into two core elements. Firstly, he gave a lecture on "Witchcraft in the Media Age". Secondly, he proposed a methodological engagement on media ethnography. He built on a complete bibliography (available below). The audience was encouraged to ask questions and make comments all through the session.
The lecture drew on Julien Bonhomme's extensive research on, and with, African media. He focused more particularly on witchcraft stories and occult rumours. Indeed, considering media as primary sources for research poses series of epistemological and ethical issues. Researchers can use newspapers as ethnographic materials if they pay attention to the semantic content of press articles. They also need to carefully ponder the specificities of both the production (by journalists) and reception (by the general audience) of the journalistic discourse. In West Africa, media often go beyond simply reporting rumours and participate actively in the spread of cases of "offrandes de la mort" (death owls), "vols de sexe" (genital snatching) human sacrifices, as illustrated in Dr. Julien Bonhomme's work. The features of journalistic discourses make it sometimes difficult to identify the exact subject of newspaper articles dealing with allegations of that sorts: Are they focusing on the spread of rumours? The alleged cases themselves? Or the ulterior socio-political repercussions, like the lynching of the individuals for example? Dr. Bonhomme examined the example of newspaper articles obtained from the Nigeria Watch database (an IFRA Nigeria project listing deadly-violent events in Nigeria). He showed that article titles and contents may qualify the victims or suspects of a violent event (calling them in that case, "ritualists") without citing any source to justify such a claim.
After the break, Julien Bonhomme begun the second part of the session addressing methodology. He identified the cases where research on media is pertinent and insisted on the need to constitute a "media corpus" comprising series of media outlets. He remarked that the selection process of such corpus is crucial for the research. What are the criteria that researchers should use to constitute their corpora? Scrutinising the most popular media in a given area is often a relevant strategy. In addition, social scientists should respect clear methodological rules, cite rigorously the media they use to avoid any misunderstandings.
The seminar concluded with further questions and comments by the participants, who were eager to put their own experiences into perspective with the workshop. Participants, including those who were taking part for the first time in the IFRA fellows' research seminar programme, finally expressed their satisfaction and were looking forward to the upcoming seminars in the next months.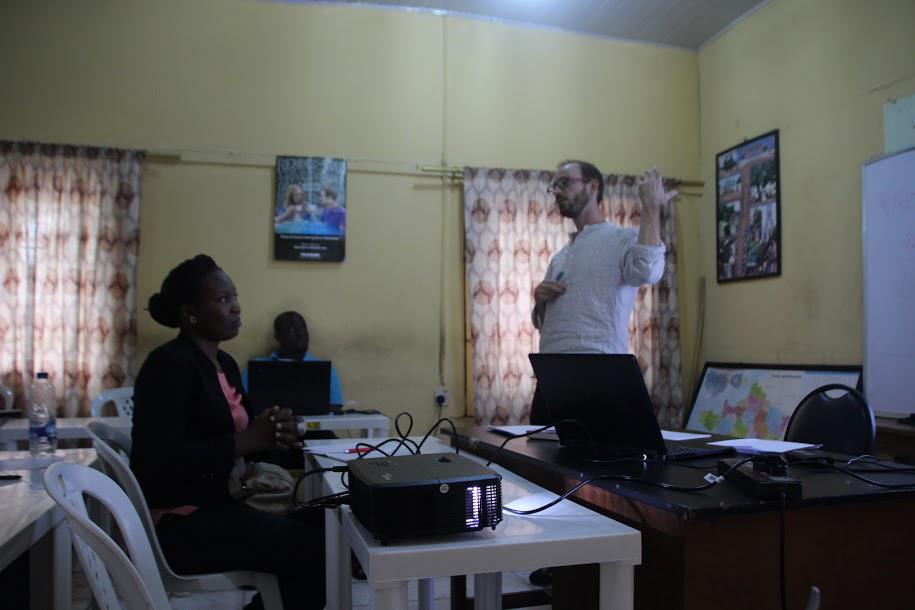 Julien Bonhomme detailing with the various types of media sources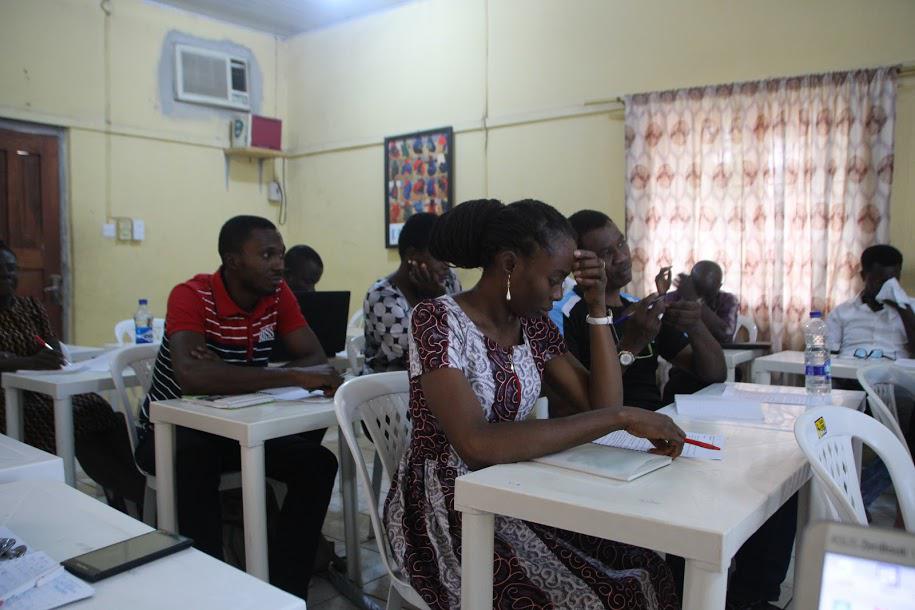 IFRA research fellows listening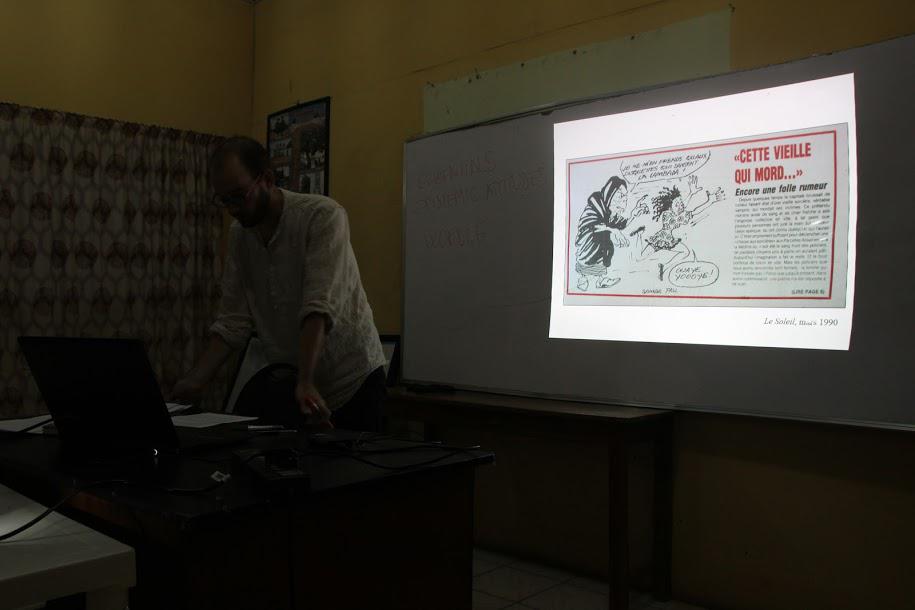 Julien Bonhomme describing an article in a Senegalese newspaper and how it deals with a rumour
References
Abu-Lughod, Lila (2004). Dramas of Nationhood: The Politics of Television in Egypt. Chicago, University of Chicago Press.
Anderson, Benedict (1983). Imagined Communities: Reflections on the Origin and Spread of Nationalism. London, Verso.
Appadurai, Arjun (1996). Modernity at large: cultural dimensions of globalization, Minneapolis, University of Minnesota Press.
Bastian Misty (1993). « "Bloodhounds Who Have No Friends": Witchcraft and Locality in the Nigerian Popular Press », in Jean Comaroff, John L. Comaroff (eds), Modernity and its malcontents, Chicago, University of Chicago Press, p. 129-166.
Bastian Misty (2001). « Vulture men, campus cultists and teenaged witches: modern magics in Nigerian popular media », in Henrietta Moore, Todd Sanders (eds), Magical interpretations, material realities: modernity, witchcraft and the occult in postcolonial Africa, Londres, Routledge, p. 71-96.
Bastian Misty (2003). « Diabolical Realities: Narratives of Conspiracy, Transparency and "Ritual Murder" in the Nigerian Popular Print and Electronic Media », in Harry West, Todd Sanders (eds), Transparency and Conspiracy: Ethnographies of Suspicion in the New World Order, Durham, Duke University Press, p. 65-91.
Bonhomme, Julien (2015). « La sorcellerie à l'ère des médias », in S. Fancello (dir.), Penser la sorcellerie en Afrique, Paris, Hermann, p. 83-116.
Bonhomme Julien (2016). The Sex Thieves. Anthropology of a Rumor, Chicago, HAU Books-University of Chicago Press.
Bourdieu, Pierre (1996). On Television and journalism, London, Pluto Press.
Cohen, Stanley (1972). Folk Devils and Moral Panics. The Creation of the Mods and the Rockers, London, Mac Gibbon & Kee.
Comaroff Jean et Comaroff John (1999). « Occult economies and the violence of abstraction: notes from the South African postcolony », American Ethnologist, vol. 26, n° 2, p. 279-303.
Ellis Stephen (1989). « Tuning in to pavement radio », African Affairs, vol. 88, n° 352, p. 321-330.
Ginsburg, Faye, Abu-Lughod, Lila, Larkin, Brian, dir. (2002). Media Worlds: Anthropology on New Terrain, Berkeley, University of California Press.
Goode Erich, Ben-Yehuda Nachman (1994). Moral panics: the social construction of deviance, Oxford, Blackwell.
Hahn, Elizabeth (1994). « The Tongan tradition of going to the movies », Visual Anthropology Review, vol. 10, n° 1, p. 103-111.
Hall, Stuart (1973). Encoding and Decoding in the Television Discourse. Birmingham, Centre for Contemporary Cultural Studies.
Katz, Elihu, Liebes, Tamar (1990). The Export of Meaning. Cross-Cultural Readings of Dallas, Oxford, Oxford University Press.
La Fontaine Jean (1998). Speak of the Devil: tales of satanic abuse in contemporary England, Cambridge, Cambridge University Press.
Larkin, Brian (1997). « Indian Films and Nigerian Lovers: Media and the Creation of Parallel Modernities », Africa, vol. 67, n° 3, p. 406-440.
Meyer, Birgit (2003). « Visions of Blood, Sex and Money: Fantasy Spaces in Popular Ghanaian Cinema », Visual Anthropology, n° 16, p. 15-41.
Meyer, Birgit, Moors, Annelies, eds (2006). Religion, media, and the public sphere. Bloomington, Indiana University Press.
Powdermaker, Hortense (1962). Copper Town: Changing Africa. The human situation on the Rhodesian Copperbelt, New York, Harper & Row.
Werner, Jean-François (2006). « How Women Are Using Television to Domesticate Globalization: A Case Study on the Reception and Consumption of Telenovelas in Senegal », Visual Anthropology, vol. 19, n° 5, p. 443-472.
White Luise, 2000, Speaking with Vampires. Rumor and History in Colonial Africa, Berkeley, University of California Press.