IFRA training workshop: "Learning Secret: Anthropological fieldwork and the production/communication of knowledge" by Dr. Dominique Somda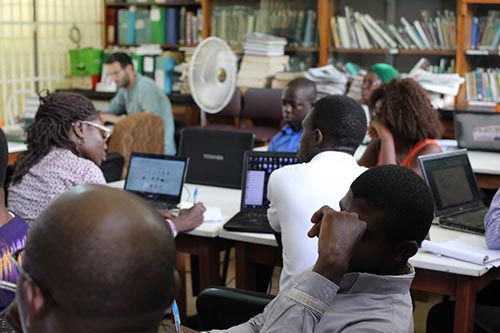 On 23rd of May 2017, our monthly IFRA research seminar took place in the IFRA library, Institute of African Studies, University of Ibadan. As usual, it was open to IFRA research fellows. Outstandingly however, it was not run by the IFRA core staff but by our Academic guest, Dr. Dominique Somda. Following the lecture she delivered on the 22nd of May in Draper's Hall, Dr. Somda, sociocultural anthropologist and traveling faculty at the International Honours Programme (Brattleboro, Vermont, USA), addressed the topical issue of secrecy in social science and humanities research.
The goal was to introduce students to the research of secret issues. It consisted in an exploration of the anthropological production of knowledge in the context of secrecy.
Indeed, Dr. Somda argued that anthropologists in the past have sometimes been guilty of disseminating exclusive information that were either shared with them in confidence, or that they had to violently extract. Ethnographic texts have unveiled ritual secrets, secrets d'Etat, public secrets, secrets of identities, tabooed words and esoteric knowledge. Secrecy continues to present both confirmed ethnographers and neophytes with some stark epistemological challenges and ethical dilemma.
The nature of the research topics, the positioning of the informants and the research methodology influence heavily the approaches researchers should or could follow. Fellows (Master and PhD students) participating in the seminars were affiliated to various departments and programmes ranging from Peace and Conflict Studies, Afro-Caribbean literature or History, to Sociology or Philosophy. This entailed that the reflections and experiences they shared with Dr. Somda were of great diversity.
Dr. Somda proposed also a discussion on a text written by Michael Houseman "The interactive basis of ritual effectiveness in a male initiation rite", a chapter from the book edited by Pascal Boyer in 1993 Cognitive Aspects of Religious Behaviours (Cambridge University Press). Fellows were asked to reflect on how this text is informative of the ethical, methodological and epistemological challenges of the research on secret phenomena, in that case specific rituals. Participants were eager to confront their own views with the developments in the texts and engaged into a lively discussion between themselves, with Dr. Somda and with the IFRA staff.
In overall, the session was thought-provoking and demonstrated a degree of commitment of the IFRA fellows to build their research capacities and expertise. A bibliography (see below) and other useful material were shared with the participants upon their request.
Bibliography (in French and English):
ASSOUN, P.-L. (1989). Le sujet de l'oubli selon Freud.

Communications (N°49).
BARTH, F. (1975). Ritual and knowledge among the Baktaman of New Guinea. Oslo/New Haven :Forlaget/Yale University Press.
BELLMAN, B. L. (1984). The language of secrecy : symbols and metaphors in Poro ritual .

New

Brunswick: Rutgers university Press.

JAMIN, J. (1977). Les lois du silence. Essai sur la fonction sociale du secret. Paris: Maspero.

JEANDILLOU, J.-F. (1994). Esthétique de la mystification. Tactique et stratégie littéraire.

Paris :Les Editions de Minuit.
PIOT, C. D. (1993). Secrecy, ambiguity, and the everyday in Kabre culture.

American anthropologist (Vol. 95, n°2).

SIMMEL, G. (1991). Secret et sociétés secrètes. Editions Circé.

SMIRNOFF, V. (1976). Le squelette dans le placard. Nouvelle revue de psychanalyse.

TAUSSIG, M. (1999).

Defacement. Public secrecy and the labor of the negative. Stanford.

Stanford

University Press.

ZEMPLENI, A. (1996). Savoir taire : Du secret et de l'intrusion ethnologique dans la vie des

autres. Gradhiva (N°20).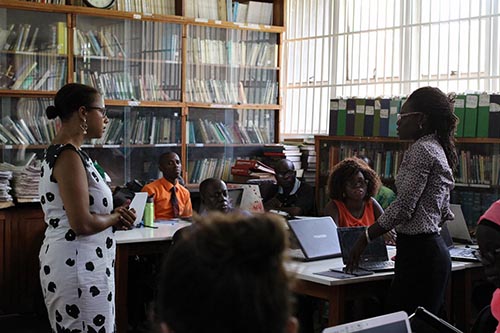 An IFRA fellow sharing her views with Dr.Somda and other seminar participants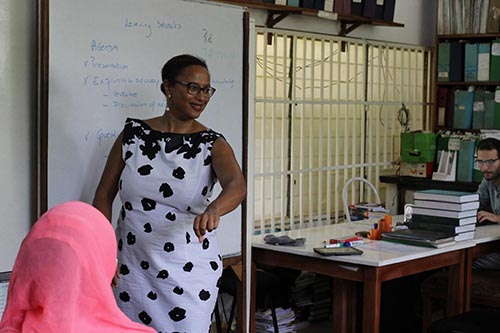 Dr. Somda developing her arguments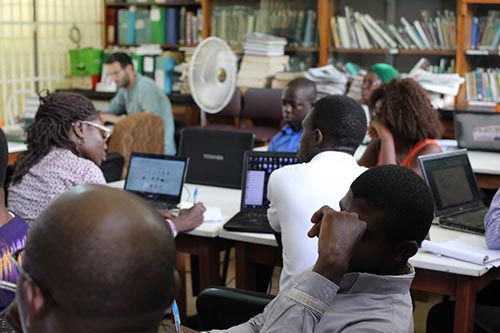 Fellows brain storming during the seminar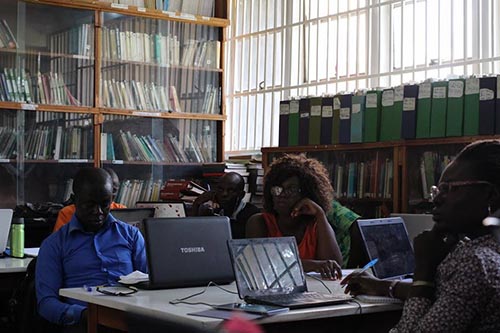 Fellows listening to Dr. Somda