Earth Day Conference: "Challenges & Practilatities for Transition to Sustainable Societies" - April 21st, Lagos.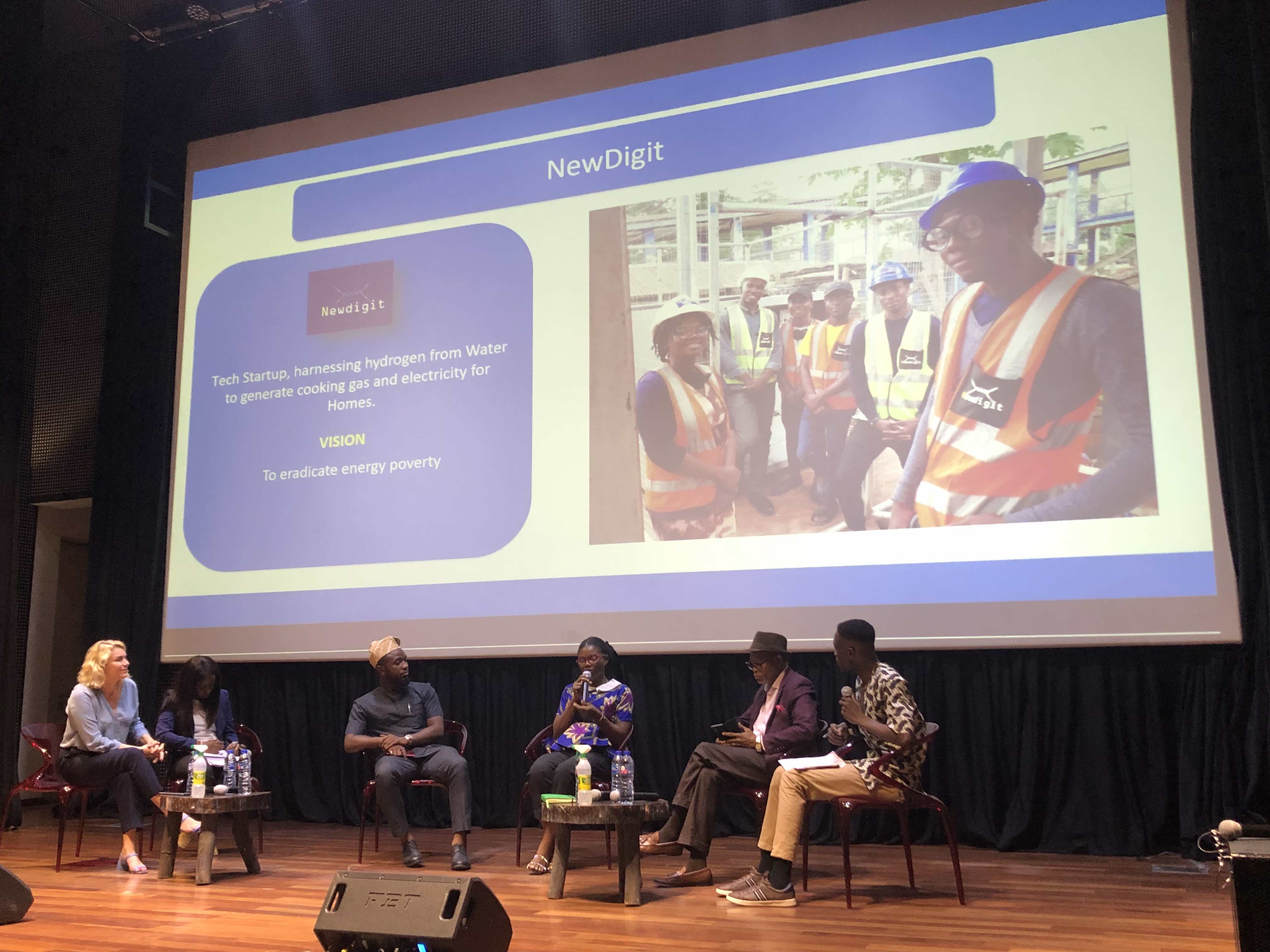 Throughout spring 2022, Institut Français du Nigéria, the French Embassy in Nigeria and IFRA-Nigeria will be organising a collaborative conference series on environmental changes. To celebrate Earth Day, they organised a conference entitled: "Challenges & Practicalities for a Transition to Sustainable Societies: Insights from France and Nigeria."
The roundtable was held at Alliance Française Lagos / Mike Adenuga Center (Ikoyi, Lagos) on April 21st from 6pm to 8pm.
There is now a widespread concern about the climate crisis; the publication of the latest IPCC report in April 2022 unfortunately confirmed earlier fears. We have also witnessed multiple calls for action emanating from the global scientific community and civil societies. One thing is certain: climate change and environmental issues are more and more visible and have consequences on people's lives. Today, there is a relative political consensus on the necessity for a transition to use less resources and to exploit the resources available on Earth in a more sustainable way. There is also a change in terms of attitude. Different stakeholders are changing their practices at various levels. Scientists and civil societies have identified waste and energy as two leverage points which can make a transition to more sustainable societies possible. Government, institutional stakeholders as well as vulnerable communities have also made propositions. But how are these innovations implemented in the Nigerian and French societies? What are the challenges for the environmental shift?
Our discussion will highlight solutions and alternative models in adapting to, and mitigating climate change, as well as the challenges of such implementation in France and Nigeria. The French Ambassador for Circular Economy, Nathalie Boyer, was in dialogue with Nigerian experts from the civil society and waste management initiatives, as well as other stakeholders in the environmental protection space.
To discuss these questions were honoured to have on stage:
Mrs. Nathalie Boyer is the Ambassador for the Circular Economy at the French Ministry of Ecological Transition. She is the vice-president of the National Council for the Circular Economy. Corporate Social and Environmental Responsibility and Sustainable Development Department Director at ORÉE, a network of French players committed to exchanging and implementing an environmental dynamic at the service of territories.
Mr. Adebola Olugbenga is the CEO of Richbol Environmental Services Limited. He has over 30 years cognate experience in the field of waste/ environmental management. He was involved in several Integrated Solid Waste/Environmental consultancies for various tiers of governments and Parastatals, the private sectors, NGOs and Foundations etc in Nigeria, Ghana, Burkina-Faso etc. He is a member of the Association of Waste Managers of Nigeria; a member of International Collaborative Working Group (CWG) on Solid Waste Management in low and middle income countries. A member of International Partnership for Expanding Waste Management Services of Local Authorities (IPLA), which is an initiative of United Nations Centre for Regional Development (UNCRD). He also has over 20 publications/research work to his credit, most of which were papers delivered at both Local & International conferences and workshops.
Mrs. Joy Egbe is a social entrepreneur, inventor, a vegetarian and environmental advocate. She is the Co-founder and Chief Impact Officer of Newdigit Technologies, a renewable energy start-up. Joy is a United Nations Academic Impact fellows class 2018, A Young Champion Of the Earth Nominee. Her fight against climate change cut across Entrepreneurship, Youth Empowerment, and Technological innovations.
She is dedicated to eradicating energy poverty in Africa.
M. Habeeb Balogun, is an international development professional with a First Class Bachelor's Degree in Business information Systems from the University of East London. He is a passionate sustainable development advocate with over five years of experience in strategic planning, implementation and management of community and sustainable development programs. He is a co-founder and the Executive of Access To Learning And School Initiative where he works tirelessly with his team to tackle issues of inequality in access to learning platforms for young people living in marginalized communities for personal and community development with specific interest in raising awareness and supporting the transition to a low carbon economy.
His chosen career path granted him the opportunity to serve as the Lagos State Youth Ambassador under the ministry of youth and social development. This has fuelled his involvement in high level strategic stakeholder engagements on state and national levels as a Youth Consultant. He still volunteers and works with Protect Ozone Initiative, Africa Cleanup Initiative, and the Nigeria Youth SDGs Network.
M. Abimbola Stanley Omopo, IFRA's Junior Research Associate moderated the panel. As an introduction to the topic was showed a short video presenting the research-creation project "Where is Bar Beach?" by Pauline Guinard & Softmix Eniayo.