IFRA Fellow's research training seminar: media as fieldwork. How to do ethnography with press articles?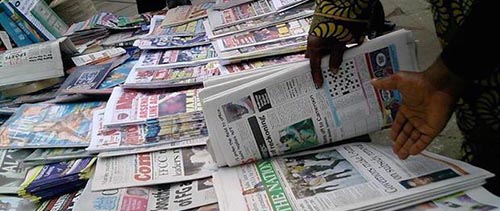 Date: Tuesday, 26th of September, 2017
Time: 2pm-6pm
Place: Alliance Francaise of Ibadan, 7th Day Adventist road, Beside Magistrate Court, Iyaganku, Ibadan
IFRA is pleased to organised its first workshop of the semester.
It will be supervised by Dr. Julien Bonhomme, Social Anthropologist at the French National Centre for Scientific Research and Associate Professor at the Ecole Normale Supérieure of Paris.
The workshop will address the media as an ethnographic object. The workshop will focus more particularly on the way witchcraft stories and occult rumors are circulated through tabloid newspapers in Africa. Participants will also be encouraged to reflect critically on their own academic use of the media.
Registration is compulsory and reserved to IFRA fellows. Interested fellows should send an email to This email address is being protected from spambots. You need JavaScript enabled to view it. as soon as possible and not later than Friday, 22th of September, 2017. Since the available space is limited (only 18 seats), we encourage you to register very soon.
About the workshop
Long-neglected in sociocultural anthropology, the media have become a legitimate topic of ethnographic enquiry in the early 2000s, to such an extent that one can speak of a media turn in the discipline. In virtually all societies and cultures, the media are now part and parcel of people's daily lives, be they traditional mass media (printed press, radio, cinema, television) or new digital media (digital video, cellphones, the Internet). We live in a massively mediated world, i.e. a world where news, ideas, and images circulate on a global scale through media technologies.
As a consequence, anthropologists (and more generally social scientists) are prone to use the media as a source of information. They read the local press and browse news websites and forums in addition to more traditional methods of enquiry. This raises a series of questions: How are we to use the ubiquitous productions of the news media in anthropology? Could they count as ethnographic data? And how do they compare with firsthand information collected through face-to-face interactions with people?
On this matter, two antithetic but equally inappropriate positions have been taken. Some claim that the information provided by news media must be discarded as too inauthentic and unsuitable for ethnography, while others use it as a primary source of information without even questioning its nature and origin. I will argue that the information provided by news media can be used as ethnographic material, if and only if we pay attention not just to its semantic content, but also to the sociocultural contexts in which it is produced and received. Researchers cannot limit themselves to gathering press articles or other media productions they find relevant for their topic of investigation; they must also take into account the journalists who write them and the public who read them. To illustrate this, we will focus more specifically on the way witchcraft stories and occult rumors are circulated through tabloid newspapers in Africa. During the workshop, the attendants will have the opportunity to critically reflect on their own academic use of the media.